Double Eagle Ranch Events 2021
Veteran's Appreciation Day
Tuesday September 14: The Double Eagle Ranch hosted it 3rd annual Veteran's Appreciation day. Approximately 200 veterans and spouses attended the ranch for a day of relaxation, lunch, music, fishing, and rides around the property. Food was provided by Shooters, an Elsberry restaurant, and the music was performed by Jessie Vaughn, an Elsberry high school junior and a recording artist, who played a tremendous number of country songs. It was a great privilege for everyone at the ranch to host the veterans. Thanks for your service. We cannot say this enough.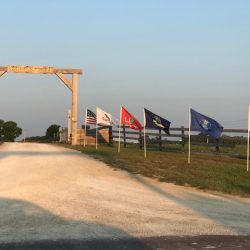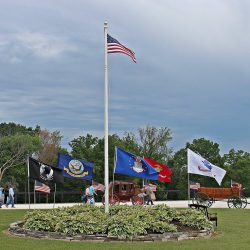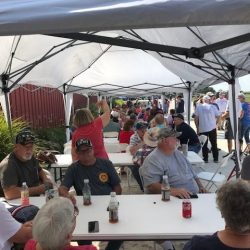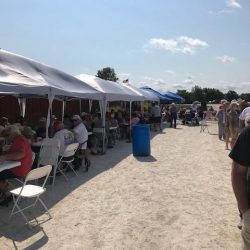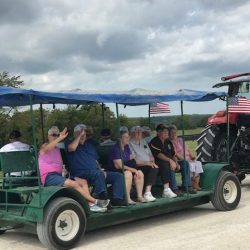 I would like to personally thank the following groups who made this event successful. Highway NN approaching the ranch was lined with American flags donated by the VFW post 9064. We had two trams available to the vets to transport them around the ranch, donated by the government nursery in Elsberry and Forest Keeling Nursery. The American Legion Auxiliary Post 226 donated funds to cover expenses for the event and VFW Post 9064 Auxiliary helped prepare and serve lunch.
Hunter Pace Event
Sunday October 3: The ranch is going to host an entirely new event this October. We have built a steeplechase course around the property. The specifics of the event are in the posters below. Contact Katie Potter to RSVP or ask any specific questions. Note the signed wavier and the coggins test. We are looking forward to October.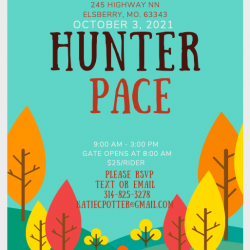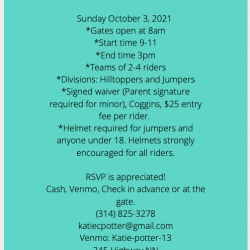 Arise Therapy Charity Event
Saturday October 23: We are hosting a poker run for Arise Therapy. The day goes from  9 am to 4 pm and includes lunch. There also will be a silent auction on a wide range of items. Arise Therapy is an organization that helps veterans and everyday individuals who are suffering from anxiety, depression, grief, and hopelessness overcome their difficulties through work with horses.