Morel Mushroom Hunt on Horseback
Sunday April 29: The Double Eagle Ranch will host a morel mushroom hunt with Bridlespur Hunt Club. The master of mushrooms, Michael Murphy, a 40 year member of the Missouri Mycological Society, will lead the way. Michael has been hunting mushrooms for over 50 years and has coordinated private land and habitat rehabilitation for the Bridlespur Hunt Club. Michael is at heart a conservationist and works with MDC and Federal Authorities in dozens of programs.The trail ride is open to all boarders and trail riders at the Double Eagle Ranch free of charge. Tally Ho, we hope you'll join us for this wonderful event!
Update: The Mushroom Hunt at the ranch was a tremendous success. We had 30 riders on a beautiful Sunday morning. Following Michael Murphy's dog, we searched the trails at Double Eagle Ranch for over two hours looking for morels. Because of the cold spring, we unfortunately were unable to find any at this time of year. However, this did not dampen anyone's spirits as we all sat down for a morel pasta lunch, English tea service and chocolate biscuit cake. We also had a royal visit from the Queen. Included are a couple of pictures from the event.
Equine Health Seminar
Saturday May 5: We hosted an equine health seminar with Dr. Hartman from Mid-Rivers Equine Centre at the ranch. Dr. Hartmann not only talked about common health issues faced by all horses with an audiovisual presentation, but we went outside and he showed all in attendance many simple things to do and to look for with their own horses. This was a great experience for everyone and we all are better able to take care of our best friends. Thank you Dr. Hartman and Mid-Rivers.
Boarder's Day
Saturday June 2: The Double Eagle Ranch will host its first boarder's day of the year which will begin with a search for two "significant" prizes along the trails of the ranch. These prizes will be hidden somewhere on the ranch property on Thursday and all boarders and trail riders will be encouraged to try and find them. Specific clues will be given Saturday morning. Several other "surprises" will be put out on the trails on Saturday morning. A barbecue will follow the morning search where the prizes will be awarded. Good luck to everyone. You'll need it.
Veterans Appreciation Day
Tuesday June 12: The Double Eagle Ranch hosted a very successful and enjoyable Veteran's Appreciation Day in early June.  All told, approximately 130 local area veterans and spouses came to the ranch to enjoy a day of relaxation, fishing, and touring of the property. Veterans also had a chance to ride in the indoor arena and come face to face with a couple of clydesdales. All these opportunities were centered around a tremendous barbecue of chicken, brats, hamburgers, with beans and salads, and, of course, several chocolate deserts.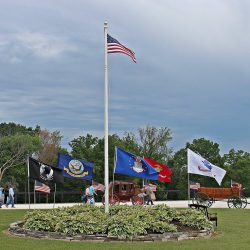 I would like to personally thank the following groups who made this event successful. Highway NN approaching the ranch was lined with American flags donated by the VFW post 9064. We had two trams available to the vets to transport them around the ranch, donated by the government nursery in Elsberry and Forest Keeling Nursery. The American Legion Auxiliary Post 226 donated funds to cover expenses for the event and VFW Post 9064 Auxiliary helped prepare and serve lunch.
I finally would like to thank all the veterans not only for coming to the the ranch but also for their service to their country. The Double Eagle Ranch plans to continue its involvement with the veteran's and possibly host other events in the future.
Obstacle Course/Trail Ride
The Double Eagle Ranch will host an obstacle course challenge and trail ride event on Saturday October 13.
Despite the very cold weather which shut down all the other riding events in the area, we held our obstacle and trail riding challenge event. Mary Ann Cash was a judge for the obstacle course which included such things as a shower curtain, raised platform, mailbox, duck pond, a log push, a back through L, and much more. We had 16 contestants move through the course, with 6 riders winning ribbons. The top finisher, Cathy Jackson, won a trophy and $50. Second and third place finishers were Joanie Cox and Kathy Rager,  who both won cash prizes.
The trail challenge consisted of a seven mile trek through the Double Eagle property. Clues were given to define the specific trail through the existing 25 miles, although all riders were free to ride anywhere on the ranch. Playing cards were placed strategically on the various trails, and each card was associated with a specific prizes. Many of these cards consisted of such things as $50 gas cards and bags of horse treats, a riding helmet, a Double Eagle photo shoot and yearly trail passes for unlimited riding for non-boarders were also possible to win. Alexis Rodgers won one of these passes, and a second one remains to be found. Paul Wallace won the photo shoot.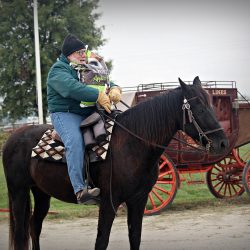 In all, it was a great day for everyone and we plan to do it again next year.
We are in the process of scheduling several events at the Double Eagle Ranch for 2019. Dates will be announced when finalized.
Tentative Events for 2019:
gated horse clinic with Marie Boyd Saturday and Sunday April 13 and 14
vet clinic – spring
Veteran's Appreciation Day – June
obstacle course/trail riding challenge – Sept
barrel racing event – fall