Boarding:
The Double Eagle Ranch offers both pasture and stall boarding. In both cases, we offer short-term boarding for vacations or winter months, boarding for retired horses, cross-country boarding for those individuals traveling across the country and the typical yearly boarding.  Managers of the property live here full-time.
Pasture Boarding:
The ranch has the largest pastures of any boarding facility in Missouri. We divide horses into several mare and gelding pastures.
Maximum of 15 horses per pasture.
30 to 40 acres in each all-grass pasture.
Includes at least one windbreak and automatic waterer per pasture.
We use Fly Predator to help minimize the number of flies in each pasture.
There are three tack rooms available for pasture boarders and indoor stalls available for tie ups, vet visits and saddling. Horse-trailer parking is allowed on the property
Pasture boarders have the availability of mare and gelding dry lots, each with its own automatic waterer and windbreak. There also are restrictive feeders in these lots.
Pictures of each horse are taken and put in a series of books available too each employee, along with medical history and any medications required. Horses are checked on a daily basis by the staff, and the managers who supervise the ranch live on the property full time.
Visit the Pasture Photo Gallery
Stall Boarding: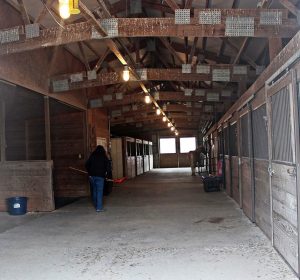 The Double Eagle Ranch has two barns for stall boarding. Each barn is insulated with its own tack room and doors which can be closed to protect against the wind. The large horse barn has stalls which are 14' x 16', with rubber mats and shavings on the floor of each, and a hot water wash area. Horses in this barn are turned out on a daily basis into pastures based upon a schedule established by the boarder.
The smaller horse barn has slightly smaller stalls, 12' x 12' in size, but it has pens associated with each stall and a wash area adjacent to the barn. Injured horses would be placed in this barn on a short term or long term basis.
Stalls in both barns have individual fans, are cleaned daily, including weekends, and an effort is made to cater to the specific needs of each stalled horse. All horses are wormed four times a year as part of their boarding fee.
For a list of Stable and Pasture Boarding prices, please visit the Boarding Fees page.
Quarantine:
Horses of all different types are welcome at the ranch, as well as riders of all abilities. However, we have a few specific medical and legal requirements for either pasture or stall boarding.
All horses will be quarantined in a specific quarantine area for up to 30 days, depending upon where they come from to get to the ranch. This area is separated from the barns and the riding arenas.
All boarders must supply a current Coggins test for their horse.
If a horse arrives from out of state, a current state vet check must also be supplied.
All boarders are required to sign a liability agreement pertaining to possible injury of themselves or other boarders.
All boarders must fill out and sign a boarding agreement and sign a statement of the general rules of the ranch.