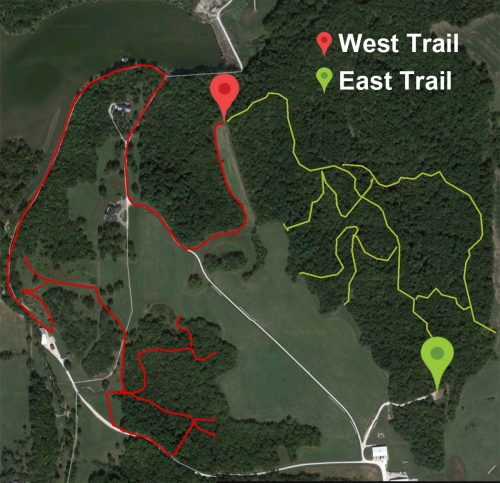 It's easy to say that we have 25 miles of trails throughout the Double Eagle property. It's easy to say that we have easy trails through pastures and along roads and around the 30-acre lake. But we also have trails through wooded areas, down steep embankments, and through creek beds. Riders can travel on the cliff above the lake or get lost in the back of the property. A boarder can ride along wide avenues or along single paths all day and rarely go down the same path twice. If you want to get away from civilization for a day and have a unique riding experience, we have developed a place for riders of all skill levels.
All trails are named and rated according to difficulty. We also have established a trail map for all areas of the ranch.   But riders are not restricted to any of these trails as they can carve out their own path through the property. To our knowledge, the Double Eagle Ranch offers a unique trail riding experience unparalleled by any facility in Missouri.

The Double Eagle Ranch can be divided into several quadrants based upon certain landmarks. There is a central road that bisects the property from the front boarding area to the back cattle barn. A lake further divides the front half of the property from the back portion. Finally, highway NN separates the main boarding facilities and hay barn from the dry lots and the cattle range. Woods in each of these areas are full of trails and each is named according to where it is located.
The East and West Woods are located directly behind the maintenance barn and surround our main hay field. These are the easiest trails and the ones most commonly used.
Beyond the lake the main road through the property divides the trails into the Northeast and Northwest Woods. These trails are much longer and significantly more difficult and challenging in the sense that they constantly turn and follow steep inclines. It is very easy to ride in this part of the property and lose track of where you are. (Trails are named and individual maps of the property will prevent this.)
Finally highway NN separates the ranch from its most eastern property. The woods in this area are called the Taylor Woods, as they are named after the farmer who still lives on the property. These trails are again relatively easy.
The overall trail maps give the rider an overview of the entire property. However, these are only the major trails. Boarders can ride everywhere on the ranch, with many pastures and roads connecting each part of the property. Moreover, there are many single horse trails that work their way through the woods so that a rider can absolutely ride all day and rarely go down the same path.